The internet was essential during the pandemic. The networks and protocols that make it up meant that we could continue life, of a sort, even during the strictest lockdowns. We were able to work from our living rooms, shop from our sofas, and keep in touch with people through our phones and tablets. And throughout it all, social media kept us connected and entertained even if our Insta feeds were a bit less varied; there are only so many angles available during lockdown, after all. But now the pandemic is drawing to a close, what do we need to remember about our social media content?
Social media is incredibly powerful, with or without a pandemic
It's easy to think that, when the pandemic turned the world upside down, that included everything. But the importance of online reputation and social media is not just limited to lockdowns. Internet use may have surged during the pandemic, but that does not mean it was not heavily used before. In 2019, it was estimated that there were 40 million Facebook users, 24 million Instagram users, and nearly 14 million Twitter users in the UK alone.
While the way people use social media might have changed forever, it's not going anywhere and remains as important as ever. If you are a business, even if you are seeing customers return to your doors, you still need to actively manage your social media profile and online reputation.
A five-star brand can drive business
Even though your focus might have moved away from trying to drive online business, social media can still bring people to your door. The natural instinct that many customers once had to check online first has only been reinforced by the pandemic. Potential customers, and even new customers, will check your reviews and social media feeds. And compare them to your competitors!
Ensuring that you have a positive reputation, that can easily be shared, and then reinforcing that with an active social media profile on the right channels can make a huge difference to your bottom line. This means ensuring your social media strategy is aligned and integrated with your overall business strategy, focused on the places your customers are, and helps to drive trade to you.
The post-Covid world is (slightly) different
Although many people are yearning for a return to normality, things will never be quite like they were in 2019. For some that might mean they are more cautious, while others might have — by necessity — discovered the internet properly during lockdowns and now research everything.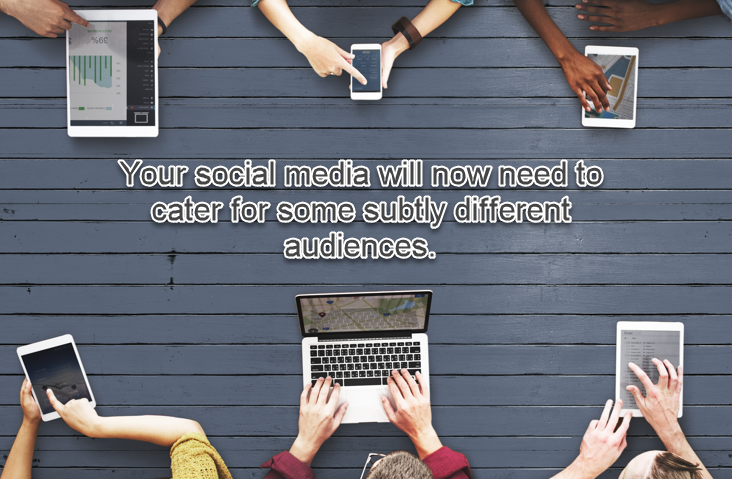 Your social media will now need to cater for some subtly different audiences. You will have to remind people you are still there; some will have gone nearly two years without visiting or using you. Others might need gentle reassurance that you will keep them safe and are still taking measures to help prevent the spread of the virus. And even old customers will need reminding that you are still the same business, and everything that went into your reputation before is still there, giving them confidence they will get great service when they come back.
Social media can be a difficult terrain to navigate.
Especially when you have the challenges of running a business as well. That's why we are here to help. Our services include social media management, helping you ensure that your social media content attracts customers. And we also offer online reputation services, helping to reinforce your social messages with a five-star brand that people can trust and want to use. Just get in touch today to find out how we can help you create the online presence and voice that drives your offline success.